A year full of firsts and successes for Mert Makina
Exhibiting at Interzum once again, Mert Makina hosted 160 visitors from about 60 countries. The fair was extremely international and the quality of the contacts was high. All in all, the mood was very good and customers showed a high level of interest. Mert Makina has been one of the companies at Interzum welcoming most orders. They made selling contract with the leading companies of their market in 3 different continents.
Mert Makina passed this fair with a great atmosphere, fantastic flair and attractive buyers. There was every appearance that, visitors and customers of Mert Makina were satisfied to a lively and energetic sales and marketing team. According to their customers, their innovation of machine has a great success. They presented 2 machines of their bestseller; Multi Needle Chain Stitch Quilting Machine and Automatic Mattress Packing Machine at their booth. Especially, Automatic Mattress Packing Machine and Automatic Mattress Tape Edge Machine were among the most popular items at Interzum.
Mert Makina has been producing machinery for the mattress industry for 20 years. Initially the company made its presence felt by producing quilting machinery only. Adding other related machinery for the mattress industry to its product portfolio, Mert Makina has been manufacturing almost all machinery needed fro the mattress industry. So, it is the only company at this capacity and is one of the few in the world. Mert Makina has taken the first step by manufacturing Multi Needle Chain Stitch Quilting Machine in Turkey.
* 1.Quilting Machine (Chain and Lock Stitch)
* 2. Tape Edge Machine (Automatic or Manuel)
* 3. Mattress Packing Machine (Automatic or Manuel)
* 4. Bonel Coiling Machine
* 5. Bonel Coil Assembly Machine
* 6. Quilted Panel Cutting Machine;
* 7. Roll Cutting Machine
* 8. Border Machine
* 9. Full Automatic Mattress Finishing Line
* 10. Automatic Hotmelt Glue Line with conveyor system
* 11. Automatic Mattress Production Line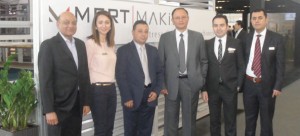 Their machines are produced 100% in Turkey with CE European quality certificate and they have 2 years warrant for all of their machinery. On the other hand, they make turnkey factories. They have done turnkey factories for their customers in several countries in the world (such as Ukraine, Russia, Saudi Arabia, India, Turkey etc..).
In our times when production costs increased and labor costs gained momentum, it is clear that the mattress machines have been developed and have turned out to be automatic mattress lines. Mert Makina has had a high technology for production of automatic mattress lines with its experience. It is exporting to over 45 countries in all continents. Placing extra importance on R&D studies, the company has realized many important projects. Starting with offering solutions to small business with 50-100 mattress capacity, it has now been supplying for large scale companies with 1000- 1500 mattress capacity daily and targeting to be a large scale machine manufacturer with its before and after sale quality and big capacity. Evaluating their participation in Interzum and the performance of the fair this year, Mr. Mustafa Nebi Dogan, Sales and Marketing Director of Mert Makina, said: "The number of visitors was not so much higher than last time. But we are very satisfied with the quality of visitors.
The request of our visitors was much stronger than expected. We made a lot of new contacts, enjoyed this international fair and hopefully did our bit towards making Interzum such a success. We had a lot of visitors at our booth because our new products triggered a lot of curiosity in the runup to the fair. Visitors from all our important sales and markets came to our booth for information about our products and services. We also received some extremely positive feedback about our new generation Multi Needle Chain Stitch Quilting Machine. All in all, our mood is very positive. For us, coming days will bring better results."
http://www.sleeptechmagazine.com/a-year-full-of-firsts-and-successes-for-mert-makina/