MERT Makina experiences a lucrative show at Interzum 2015
Mustafa Nebi Doğan: "Interzum 2015 has been one of the best Interzum exhibitions for Mert Makina"
"After 2 years once again we were in 2015 Interzum. We hosted about 200 visitors from 58 countries and we closed on this Interzum also with excellent results," says Mustafa Nebi Dogan, Sales and Marketing Director of Mert Makina. "The fair was extremely international and the quality of the contacts was high as well. This year there was a significant increase in number of our European visitor in compared to lasts interzums, in particular from Italy and Eastern Europe. We are very satified with Interzum 2015. We got large quantities orders and had a very good business interviews. We expect that in the coming days we will turning these interviews into demand and sales." Dogan outlined their interzum experience as follows:
Mert Makina passed this fair with a great atmosphere, fantastic flair, attractive buyers. There is every appearance that, visitor and customers of Mert Makina were satified to a lively and energetic sales and marketing team. According to our customers, our innovaiton of machine has a great success. This year also we presented 2 machines of our best seller; Multi Needle Chain Stitch Quilting Machine and Automatic Mattress Packing Machine at our booth. Mert Makina has a strong mattress industry. We are growing day by day. After the years of experience in production of machineries and long R&D works Mert Makina has produced Double Head Quilting Machine and Roll&- Flat Mattress Packing Machine and we launched them the first time into mattress producers' appreciation in this fair. Because fairs is one of the most efficient places to accomplish penetrating new markets, to capture developments and to launche news products to market. Interzum was a good opportunity for us to capture positive activity. All in all, the mood was very good and customers showed a high level of interest. Therefore we spread awareness and boosted sales. The vitality of our sales will increase further with coming summer days.
Mr. Mustafa Nebi Dogan, Sales and Marketing Director of Mert Makina, said that: "The number of visitors was so much higher than last times. We are very satisfied with the quality of visitors as well. The request of our visitor was much stronger than expected. We made a lot of new contacts, enjoyed this international fair and hopefully did our bit towards making Interzum such a success. We had a lot of visitors at our booth because our new products triggered a lot of curiosity in the run-up to the fair. Visitors from all our important sales and markets came to our booth for information about our products and services. We also received some extremely positive feedback about our new generation Double Head Quilting Machine and Roll&Flat Mattress Packing Machine. For us, coming days will bring better results."
Mert Makina has been producing machinery for the mattress industry for 22 years. Initially the company has created its presence by producing only quilting machinery. Adding other related machinery for the mattress industry to its product portfolio, Mert Makina has been manufacturing almost all machinery needed for the mattress industry. So, it is the only company at this capacity and is one of the few compnies in the world.
•Quilting Machine ( Chain and Lock Stitch & Single and Double Head)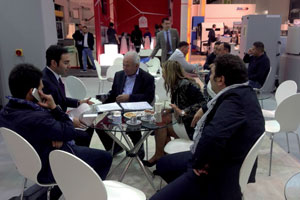 •Tape Edge Machine (Automatic or Manuel)
•Mattress Packing Machine (Automatic or Manuel & Roll/Flat)
•Bonel Coiling Machine
•Bonel Coil Assembly Machine
•Quilted Panel Cutting Machine
•Roll Cutting Machine
•Border Machine
•Full Automatic Mattress Finishing Line
•Automatic Hotmelt Glue Line with conveyor system •Automatic Mattress Production Line
An advantage of our machines is produced 100% in Turkey and there is also service possibility which is really important and the second thing is that their machines specialty has long term use option, we have 2 years warranty for our all machinery with CE European quality certificate. We use hing quality spare parts and equipment recognized world-wide
Mattress manufactures' needs change fast. We closely follow the developments in the industry and adapt the needs of our manufactures. One of the most important issue is after-sales service that isn't ignored and always throw into backside until buying the machinery by most mattress manufacturers. We have already gained thurst of our customers. Our prompt feedback to requests, our solution-oriented approaches and reasonable, quality spare parts service is approved by our clients. Our mission is to provide the best goods and service to our clients. We know what exactly our customer need.
The experience of years in production of machineries has brought opportunity for Mert Makina to do some R&D focusing on Double Head Quilting Machine and Roll&- Flat Mattress Packing Machine. Transferring the knowledge is an easy task for Mert Makina, the knowledge come from the heart of Mattress Business and let us make more operator-friendly machines. This is resulting with fewer headaches, but more easiness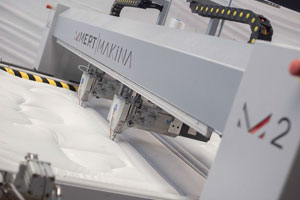 Every customer is a project for Mert Machine. We are as a friend, business partner and a guide showing the all developments and new opportunities in the sector for our clients beyond a machinery manufacturer or supplier. Mert Machine is a model to competitors with this kind of developing and innovations. Our innovation from the biggest machine to the smallest machine in our production range show to our customers how we have dedicated ourselves to this sector. Incessantly Mert Machine took a new step to innovation for our machines. We are solution partner with Siemens Solution Partner besides our innovations in the mattress production lines
Besides of the innovations in our present machines, we are also in endeavor to gain new machines to our product range.
http://www.sleeptechmagazine.com/mert-makina-experiences-lucrative-show-interzum-2015/